Foundation Solutions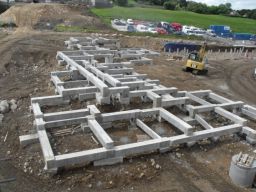 It's vital that you use the best when it comes to foundations. Using contractors that are experienced and qualified to complete your project is essential. At JK Newman Contracting Ltd, foundation solutions are our speciality. From traditional footings, to piling foundations and underpinning, we have over 20 years' experience in this sector. As an approved contractor for Roger Bullivant Ltd, the UK's leading Specialist Foundation Engineers, we work nationwide providing quality installations of pre-cast and in-situ foundations.
We are also experienced in carrying out underpinning works. This strengthens and stabilizes the foundation of an existing building by extending the foundation in depth or breadth. Subsidence, caused by tree roots, collapsed drains, hidden mine shafts or building on clay will jeopardize the integrity of any building. Underpinning affected buildings will reinforce the foundations preventing any further movement. It may also be required if the original foundation is not strong or stable enough or if the usage of the structure has changed.
There are various methods for underpinning depending on the specific problem and site conditions. For a full site inspection, free advice or a no obligation quotation for any foundation solution, contact us today.
Services
Latest News
Work Opportunities
We have a number of large projects in the pipe line and will need to increase our workforce shortly.