Reinforced Concrete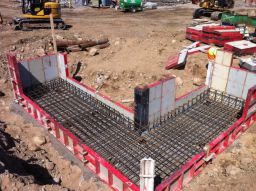 Mixing concrete with strong materials increases its strength, making it less likely to fail under tension. Reinforced concrete is one of the most common building materials in the world for both entire buildings and key structural elements that need to be able to withstand substantial stress. It is strong yet affordable, making it a popular choice.
It is commonly used for foundations and structural walls as it can support significant weight. Entire structures can be made from concrete as it can be moulded and shaped in ways that are not possible for some other materials, providing opportunities for innovative and visually intriguing design.
This building material must be carefully engineered. If it is not reinforced enough, the concrete can be weak and subject to failure. On the other hand, loading concrete too heavily with reinforcing materials can make it inflexible and brittle. When working with concrete, it is important to allow the concrete to resist tension and stress while still providing some flexibility that will allow it to give before it fractures or fails in other ways. JK Newman Contracting Ltd have years of experience with reinforced concrete, from retaining walls and in-situ ground beams, to harbour walls, pad-stones and telecom bases, we've the expertise to make us the number one choice for your project. Call us today to discuss your requirements.
Services
Latest News
Work Opportunities
We have a number of large projects in the pipe line and will need to increase our workforce shortly.