Resin Bonded Surface Dressing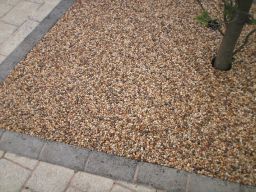 Resin bonded surface dressing is a procedure that uses resin to bind an aggregate to a solid surface. The final finish has an attractive appearance of loose aggregate and is extremely durable.
Resin bonded surface dressing offers multiple benefits. It is strong, durable and long lasting whilst at the same time resists puddles and weeds. There are many colour choices and finishes available, making it a perfect surface solution for paths, drives, car parks, tennis courts and children's play areas. It can also be used on roads originally constructed from macadam, asphalt or concrete. Its non-slip property means it is also perfect for pathways, stairs and disabled access ramps.
There are many choices of colours and textures so a site survey would be advisable to discuss the requirements, suitability and options available.
Click here to arrange a site visit to discuss your requirements.
Services
Latest News
Work Opportunities
We have a number of large projects in the pipe line and will need to increase our workforce shortly.